At least 25 guests showed up, and all were welcome. (I know that not everyone signed the board.) Lots of bikes got worked on. No drama, no broken bikes, no lengthy fixes (although the two KTM 950s took a long time to work on, so they were here until after dark).
The weather was great--sunny and not too hot, a little breeze now and then but not windy. Very nice.
When Laurie and I stumbled out to the garage with friends Laura and Graham to start getting things ready, we found a couple folks already waiting! First time for that. Not so bad, though, and they got to help get things set up, so thanks guys.
There was no time wasted and bikes got rolled into the garage bays right away.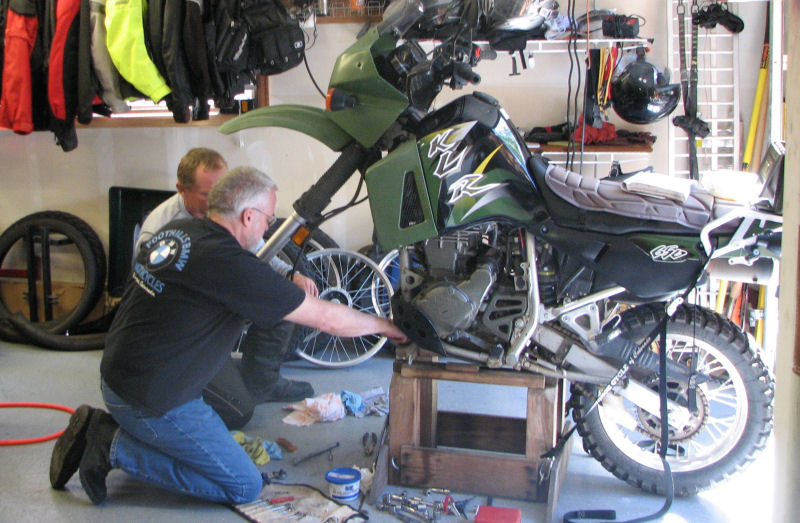 Jason showed up just to help out, and he did just that.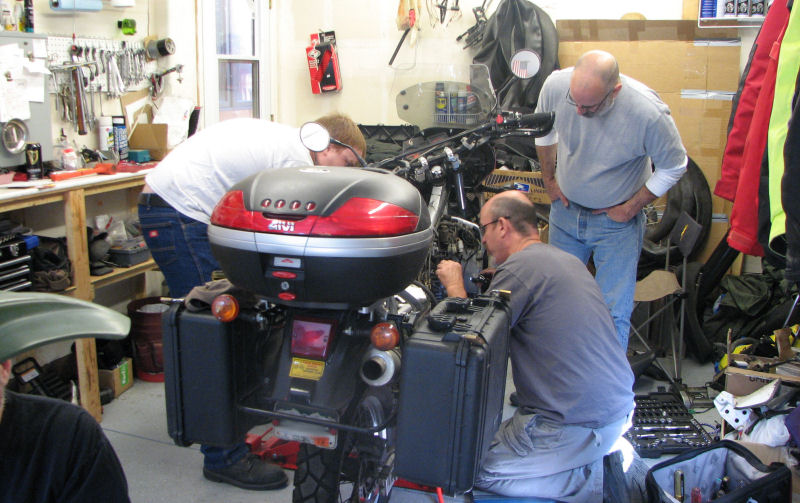 Graham and DakarNick had lots to do on their KTM 950s, and these bikes are not convenient to work on. They were here until after dark. No one had to help them, since Graham knew what he was doing.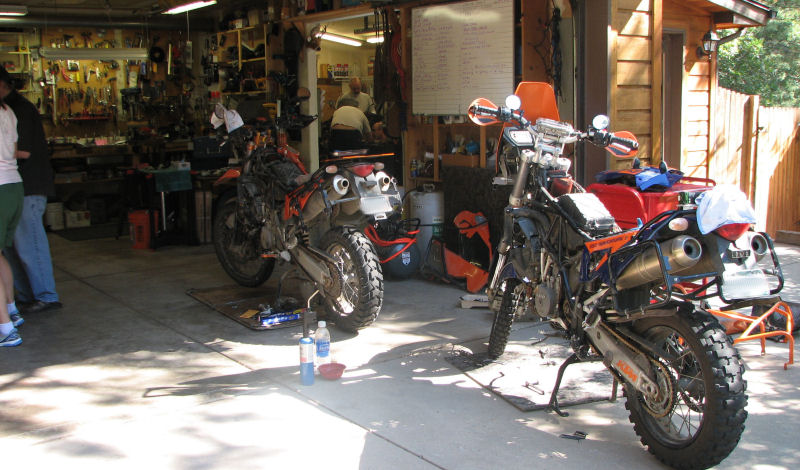 Ron rolled in with this spaceship. He had done a lot of custom mounting work to get this thing into this condition. Yep, it's a Honda.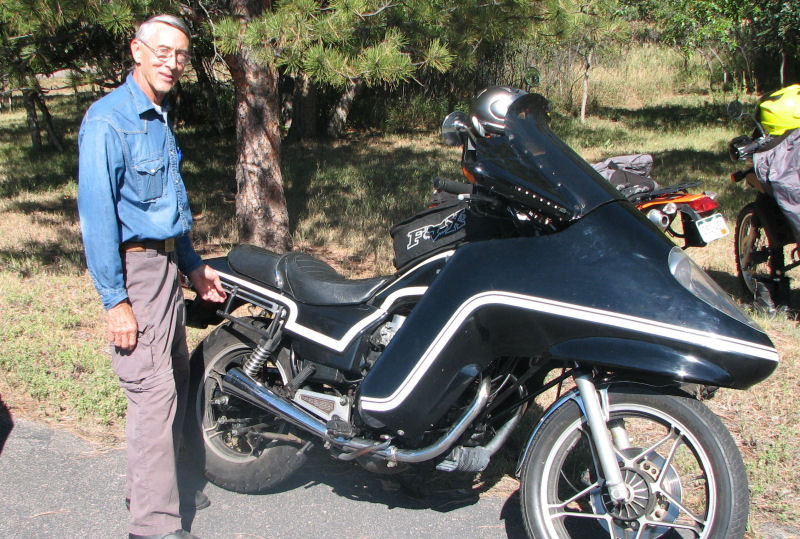 Alan ran a couple doohickey jobs (it's a KLR thing), and his help was again priceless.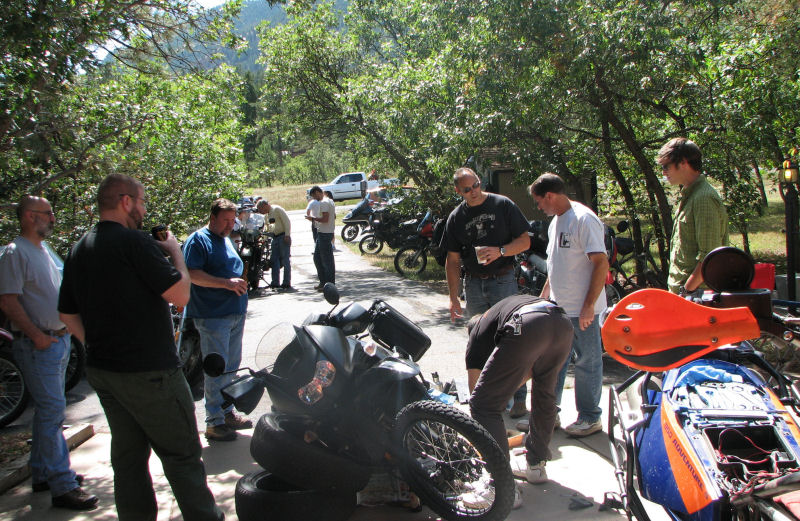 Laura was still recovering from a broken collar bone, which she broke the week after I broke both my tibia and fibula, so we were each pretty limited. Still, she helped oversee some valve jobs, so thanks again to her. Jeff came down to help out and did so. John rode down again from Cheyenne just to help out and chat for a while before needing to head back north. SnowMule Mike took lots of photos and posted them on the ADVRider forum (link at the bottom of this page). He also helped with some tire changing.
I haven't straightened up in the garage yet, but I have high hopes that everyone got home with their tools while leaving mine here. We've had good luck with all the tool confusion the last few times, so thanks go out to everyone.
Someone left a KLR air filter behind, drying out on the fence. I remember talking with someone about the filter, but I honestly don't remember who's filter it was. It's here if you need it. If it's the one that was partially torn, it can be repaired, I'm sure. I know you had a replacement, so I'm not concerned.
Thanks to those who brought food. The brats were great, and thanks to Norm who helped Laurie with their preparation.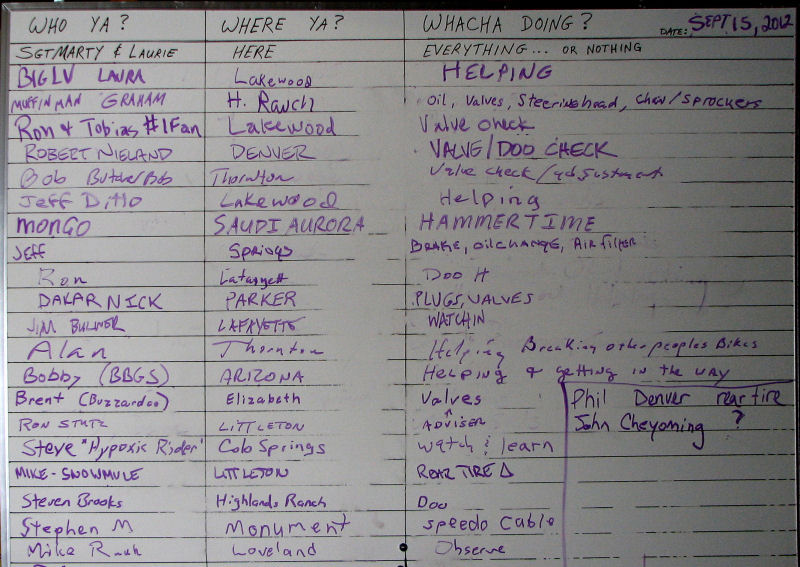 Hey, Dimitrio's name somehow got cut off from the bottom of the photo! If someone is wondering if he was really here, yes he really was.
I shouldn't be gimping around so soon on my broken leg, so it's pretty sore now. My intent is to be healed and rehabbed enough for the Elephant Ride in February (in the snow!), so that is plenty of time.

We'll plan on doing all this again in the Spring.

The KLR650.net link to this complete event discussion, including photos and comments from others is HERE.
The ADVRider.com link to many more photos of this event is HERE.

---
This site was poorly designed and created by me. Nope, no one else to blame.
(c) SgtMarty.com 2006-2012