For whatever reason...

Google Map to my house
If you need to get to my place, I am located about 16 miles south-west of Castle Rock, Colorado, which is between Denver and Colorado Springs.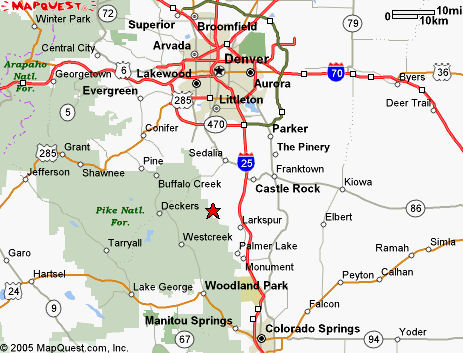 If you are southbound on I-25, take exit 173 and continue into Larkspur.
If you are northbound on I-25, take exit 172, left under the highway, left again at the stop sign and on into Larkspur.
The gas station there in Larkspur is the closest one to my home, and there is a nice deli in the corner market store, too. Good pizza and hot sandwiches, and an ATM if you need one.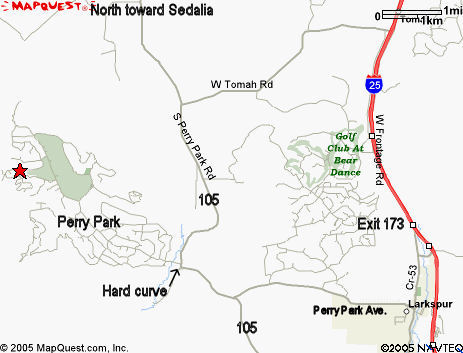 Go west from the stop sign (Perry Park Avenue), over the railroad tracks, and continue past the Renaissance Festival grounds (weekends, June and July). You will turn right and merge onto road 105, just keep going west towards the mountains. (Turning south here on 105 will take you to Palmer Lake and Monument.)
The road will make a hard right curve, BE CAREFUL . Motorcycles often crash here.
Immediately after road 105 curves north (and becomes known locally as Perry Park Road), the entrance to Perry Park is there on your left, between the stone signs. Go west on Red Rock Drive over the hills and through the woods for a couple miles.
SLOW DOWN in Perry Park! Speeding is enforced, and deer and other animals are pretty casual about being on the road.
You've been warned!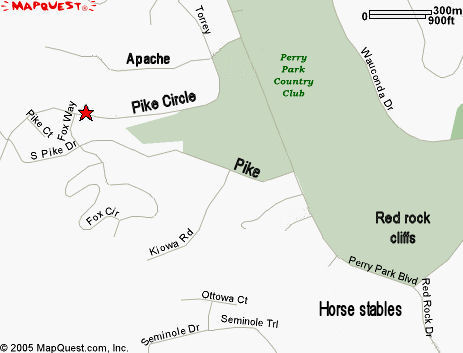 Once in Perry Park, continue until you pass the horse stables on your left and the road comes to a 3-way (mmmmm... three-way...) intersection. Go to the left, this is now Perry Park Blvd. (Not very creative with names, were they?)

Continue on, turn left on Apache, left again onto Pike Circle, and I'm at 6489 Pike Circle.

You can go left on South Pike, right on Fox, right again on Pike Circle... it's about the same.






You mapping software or service might give different directions, of course. No matter.

I'm here!

Martin and Laurie

6489 Pike Circle
Larkspur, Co 80118
303-681-2905